Our Volunteers
A world-class doctor is a click away.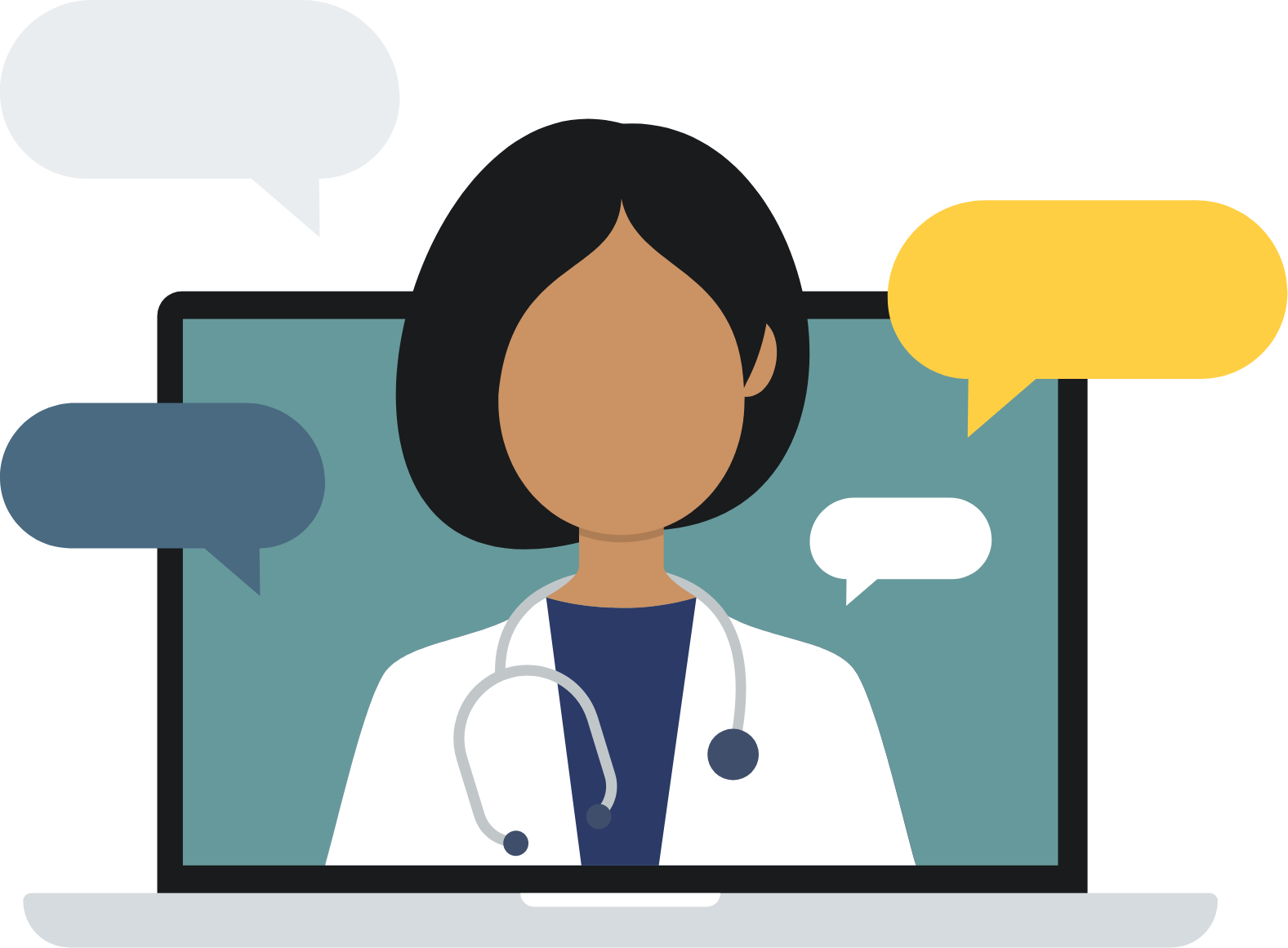 Specialities
---
Our volunteers were trained at some of the finest medical schools and hospitals.
Allergy & Immunology
Allergy & Immunology -Adult & Pediatric
Cardiology
Cardiology – Adult & Pediatric Lipidology
Dermatology
Endocrinology
Endocrinology – Adult & Pediatric
Transgender Medicine – Adult & Pediatric
Gastroenterology
Gastroenterology – Adult & Pediatric
Hepatology
Genetics
Geriatric Medicine
Gynecology
Health & Wellness
Hematology/Oncology
Oncology -Adult & Pediatric
Hematology – Adult & Pediatric
Neuro-oncology – Adult & Pediatric
Infectious Disease
General
COVID-19
HIV/AIDS
STD/STI
Hepatitis
Nephrology
Nephrology – Adult & Pediatric
Neurology
Neurology – Adult & Pediatric
Neuro-oncology
Mental Health
Addiction Medicine
Behavioral Health
Psychiatry
Psychiatry – Geriatric
Oncology
Ophthalmology
Orthopedics
Otolaryngology
Pain Management
Palliative Care
Primary Care
Family Medicine
Geriatrics
Internal Medicine
Pediatrics
Urgent Care
Psychiatry
Psychiatry – Adult, Pediatric & Geriatric
Pulmonology
Rheumatology
Rheumatology, Adult & Pediatric
Urology
Urology, Adult & Pediatric
Vascular Surgery
Vascular Surgery
Wound Care
2021 Volunteer Award Winners
---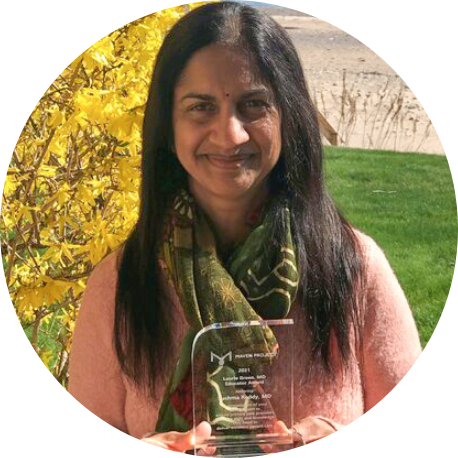 Dr. Sushma Reddy
Educator Award
MAVEN Project endocrinologist Sushma Reddy, MD is widely touted as a woman who enjoys collaborating and leading projects in her community. Known for her dedication to diabetes education, particularly continuous glucose monitoring (CGM), she is also an advocate for childhood education.
Early on, Dr. Reddy developed a passion for reading, science, and education, which led her to initiate the St. Clair County's "Walk for Summer Reading" project in Michigan. It is sponsored by the St. Clair County Medical Society in partnership with the YMCA since 2009. The project encourages physical activity and improves literacy skills in disadvantaged elementary school students. "Kids in elementary school lose their reading skills over summer break, so being able to help raise grant money for students to "earn" books for summer reading is a great thing," she says. To date, a total of $226,000 has been awarded to the elementary schools.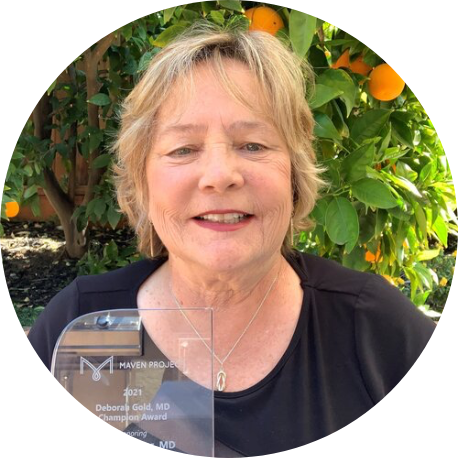 Dr. Ann Ortmeyer
Champion Award Winner
After years of practicing medicine, retiring can create mixed emotions for many physicians who are in no rush to stop being involved. Ann Ortmeyer, MD was no different.
She quickly elected to continue sharing her knowledge. "When I did retire, I really I didn't have much to do and that made me anxious because I was always doing something," says the dermatologist. She decided to join The MAVEN Project after accompanying a MAVEN physician volunteer to an informational meeting held by Jill Einstein, MD, MAVEN Project Director of Physician Engagement. Since becoming a volunteer, she has provided services in two of MAVEN's four service lines – advisory consult and mentoring.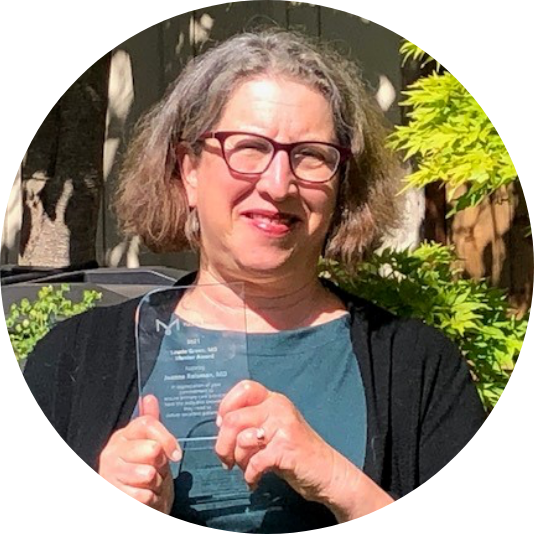 Dr. Jeanne Reisman
Mentor Award Winner
In between enjoying her many passions as an artist, swimmer, gardener, retired internist Jeanne Reisman, MD also finds time for mentoring others in the healthcare field. Long regarded as a go-to person for advice among younger physicians, mentoring came naturally to Dr. Reisman. "I was always drawn to mentoring and I find it so satisfying to help and guide young clinicians," she says. She came to love mentoring while working for Kaiser Permanente, a large managed care consortium where she also oversaw Health Education and worked to improve care for diverse populations.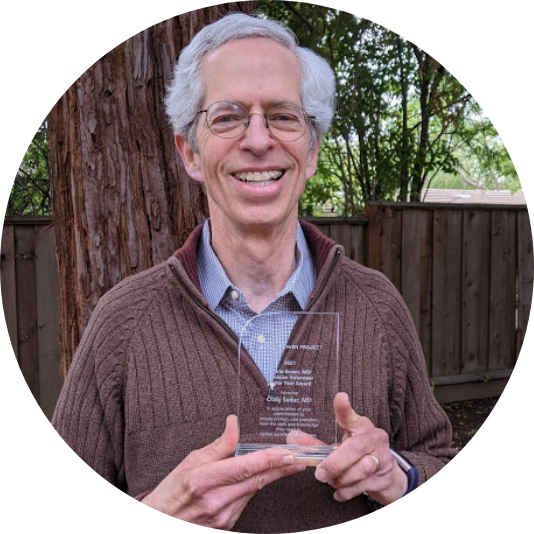 Dr. Craig Sadur
Volunteer of the Year
During his internship at University of California Davis, Dr. Sadur had an experience that would forever alter the trajectory of his career: while on the ward, he saw a woman suffering from an unknown condition. Though only in her mid-60s, she experienced intense weakness and was wheelchair-bound because of limited strength. While everyone on the ward provided excellent care, nothing seemed to be working. Then, one day, another doctor realized she had a thyroid condition. They treated her, and Dr. Sadur watched as she rapidly improved. "She grew stronger, she discarded the wheelchair, and she was able to walk again," he said. That experience inspired him to dedicate his career to endocrinology. "I took an endocrine elective month as an intern, and I was hooked. Then as a resident, I took another endocrine unit; and I knew that was it for me," he said. "It's such a diverse field, but also incredibly practical: if you have a problem and it turns out to be because of an endocrine problem, you're in luck because there's usually a way to treat it."