Our Volunteers
A world-class doctor is a click away.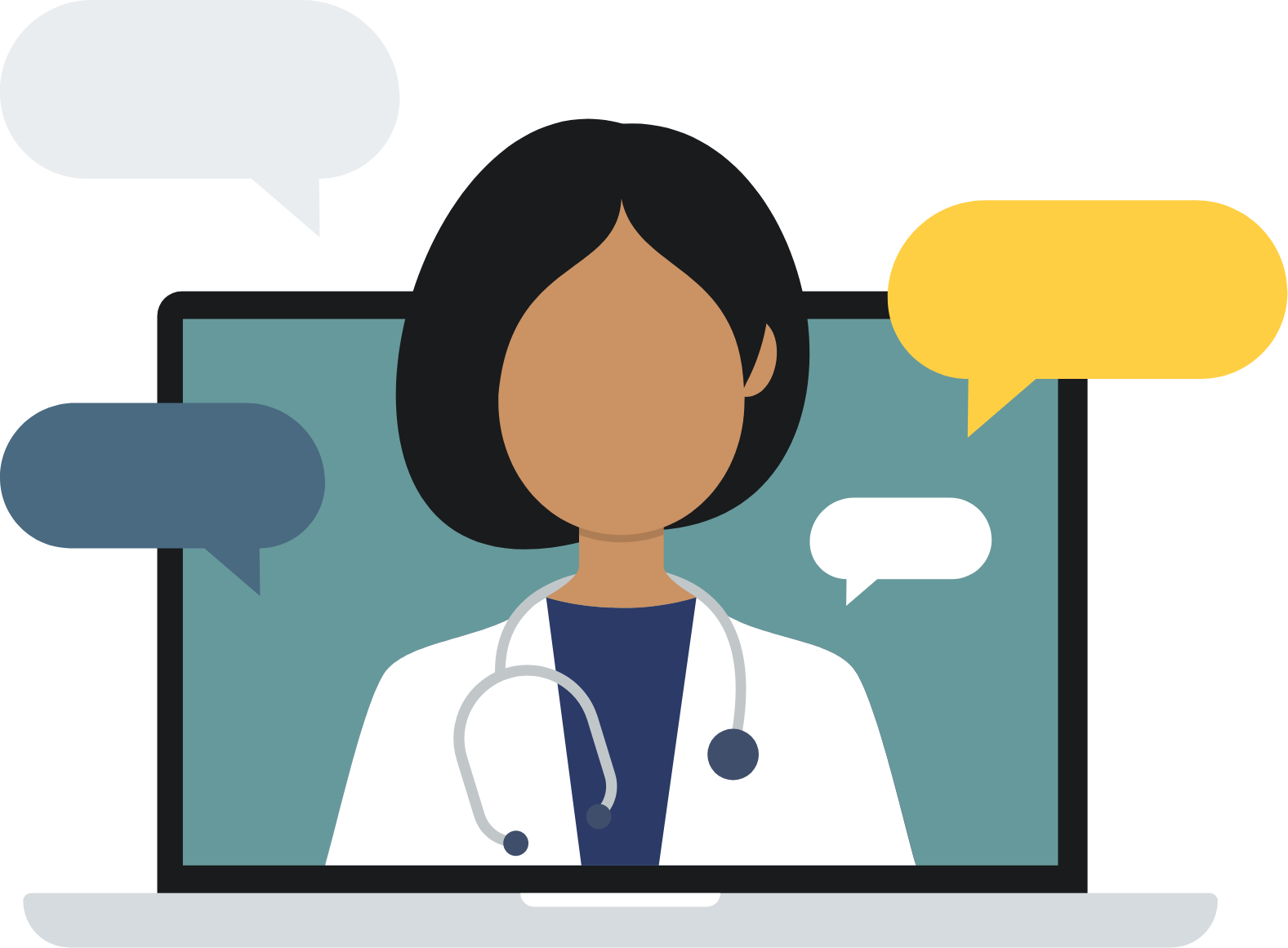 Specialities
---
MAVEN Project's expert volunteer physicians are dedicated to our mission and are credentialed and trained to understand the unique needs of underserved populations.
Allergy & Immunology
Allergy & Immunology -Adult & Pediatric
Cardiology
Cardiology – Adult & Pediatric
Lipidology
Dermatology
General – Adult & Pediatric
Eating Disorders
Endocrinology
Endocrinology – Adult & Pediatric
Transgender Medicine – Adult & Pediatric
Gastroenterology
Gastroenterology – Adult & Pediatric
Hepatology
Genetics
General – Adult & Pediatric
Geriatric Medicine
Gynecology
Health & Wellness
Hematology/Oncology
Oncology -Adult & Pediatric
Hematology – Adult & Pediatric
Neuro-oncology – Adult & Pediatric
Infectious Disease
General
COVID-19
HIV/AIDS
STD/STI
Hepatitis
Nephrology
Neurology
General – Adult & Pediatric
Neurosurgery
Neuro-Oncology – Adult & Pediatric
Mental Health
Addiction Medicine
Behavioral Medicine – Adult & Pediatric
Psychiatry
Psychiatry – Geriatric
Psuchiatry – Child & Adolescent
Oncology
Neuro-Oncology
Oncology – Adult & Pediatric
Ophthalmology
Orthopedics
Otolaryngology
Pain Management
Palliative Care
Peri-Operative Medicine
Primary Care
Adolescent Medicine
Family Medicine
Geriatrics
Internal Medicine
Pediatrics
Urgent Care
Psychiatry
Psychiatry – Adult, Pediatric & Geriatric
Pulmonology
Rheumatology
Rheumatology – Adult & Pediatric
Surgery
Urology
Urology – Adult & Pediatric
Vascular Surgery
Wound Care
2022 Volunteer Award Winners
---
Dr. Barbara Loeb
Innovator Award
MAVEN Project volunteer Dr. Barbara Loeb has done a lot of self-reflecting since retiring from her full-time medical career. Following 30+ years of practice in internal medicine and an additional eight years as a medical staff leader for various health systems and organizations, she now recognizes that while focusing all her attention on her patients, colleagues, and family, she neglected to care for herself. Dr. Loeb suffered through some painful health issues as a result, pain she believes could have been avoided had she been more mindful or her own needs.
Since retiring in 2019, Dr. Loeb has trained as a mindfulness and meditation teacher and even written a book about importance of reflection and self-awareness, How to Save a Life: Healing Power of Poetry. Today, she brings all these talents to MAVEN Project as a physician volunteer. As a mentor to a variety of frontline providers, Dr. Loeb shares the importance of creating time and space for self to avoid professional burnout, ensure good physical health, and maintain healthy relationships.
Dr. Loeb is also determined to bring the humanities back into health care. At its core, health care is fundamentally about dealing with people. Relationships – doctor-patient, nurse-patient, doctor-nurse, etc. – are arguably as important as technical medical expertise. If these relationships break down, the level of care patients receive can suffer. Dr. Loeb knows that listening, expressing, and communicating with patients and colleagues is a crucial factor in building and maintaining relationships and, therefore, in providing effective health care.
She has a passion for writing poetry and found that the creativity of writing combined with mindfulness is very healing. Through the creation of a Narrative and Humanity writing group, Dr. Loeb has also been able to share her passion with other MAVEN Project volunteers. The group has also created a sense of community among the volunteers who participate, which Dr. Loeb has found particularly rewarding. She'd love to one day create programs for providers to participate in narrative medicine.
In addition to writing and volunteering with MAVEN Project, Dr. Loeb spends her limited free time hiking, biking, and practicing yoga and Pilates. She and her husband also enjoy travelling to visit their five children and 11 grandchildren who are spread across five different states.
Dr. Scott Abramson
Educator Award
Dr. Scott Abramson jokes that he was probably 18 minutes onto this earth when it was decided he would pursue a career as a doctor. His father, a hard-working travelling salesman who supported the Abramson family through the Depression, regularly encouraged him to "get a profession" to avoid the same struggles.
And, in the Jewish community, being a physician is one of the highest callings and carries a certain amount of prestige, which appealed to Dr. Abramson as a young man. He tells a funny story of being involved in a program through Kaiser Permanente where he had the opportunity to coach other physicians. The group participated in an exercise where they were asked to draw a picture of what inspired them to be a doctor. Dr. Abramson drew a picture of a pretty, young girl with a muscular football player on one side and himself on the other side, portrayed as a "nerdy young man." The speech bubble he wrote for the girl had her choosing young Scott over the handsome football player because "he's going to be a doctor." As it would play out, Dr. Abramson has been happily married for 42 years.
But just because it was practically predetermined he would be a doctor doesn't mean the road to get there was easy. Dr. Abramson was very discouraged in medical school and considered dropping out on more than one occasion. Once he got started in neurology, however, things began to fall in place. He likes that neurology is essentially about having conversations with people and figuring out a puzzle, and he credits great mentors with fueling his passion for the specialty.
After working parts of six decades (1979 to 2020) for Kaiser – his personal claim to fame – Dr. Abramson is thrilled to have the opportunity to volunteer with MAVEN Project. The experience has been both rewarding and eye-opening, as he has been surprised to hear about some of the conditions that frontline providers labor under and how long their patients would otherwise have to wait to see a specialist. He also enjoys being able to really take his time with consults. The advice Dr. Abramson gives young providers today is the best advice he received from a therapist he saw weekly during his residency. At the end of his final visit, the therapist said, "Be kind to yourself."
Dr. Abramson encourages other retired physicians to consider volunteering with MAVEN Project because it "keeps you engaged to the profession and offers the camaraderie and connection you might otherwise lose when you retire." He also believes it's great for retired doctors' marriages, joking that after he retired and was hanging around the house all the time his wife lovingly encouraged him to "get a job."
Dr. Gerson Bernhard
Champion Award
Dr. Gerson Bernhard has always enjoyed consulting and teaching others. Following his graduation from medical school and internal medical residency program at Northwestern University, he became the university's first Rheumatology fellow. Rheumatology was new enough that physicians in general needed to be educated about the specialty. As a result, Dr. Bernhard spent the early part of his career teaching residents, nurses, physical therapists, and occupational therapists at what is now the Medical College of Wisconsin.
Since then, Dr. Bernhard has held a wide of variety of academic and administrative positions at different organizations and medical facilities, such as clinical professor of medicine from 1974–1990 at the Medical College of Wisconsin, Milwaukee, and medical director from 1990–2008 at what is now known as the Arthritis and Osteoporosis Center Mills-Peninsula Medical Center in Burlingame, CA. Since 2005, he has been part of the clinical faculty at the University of California – San Francisco (UCSF). While there, he started volunteering with the San Francisco Free Clinic, which uses many students to provide care, allowing Dr. Bernhard additional teaching opportunities.
Dr. Bernhard is a long-time MAVEN Project volunteer, joining the organization just eight months after it was founded. He appreciates the opportunity to continue to be involved in medicine and finds the work with MAVEN Project intellectually gratifying and stimulating. He firmly believes that a person "shouldn't retire from something but should retire to something." Years later, MAVEN Project isn't just an outlet for volunteering or staying connected to medicine, Dr. Bernhard is a passionate champion of the organization's vision. So much so that he has gone above and beyond to connect the organization to potential funders!
He also believes MAVEN Project volunteers like himself are making a difference. Dr. Bernhard has found that the physicians, nurses, and others he consults with are hungry for help, interested in learning, and devoted to the patients they serve. Looking ahead, he'll continue to serve as an ambassador for MAVEN Project by encouraging others to get involved as he has.
Dr. Susan Leggett-Johnson
Mentor Award
Retirement hasn't slowed Dr. Susan Leggett-Johnson down at all. She wants to continue to learn and grow and is as busy as ever doing part-time telemedicine, paid coaching, working on a couple professional development projects, volunteering, and serving on several boards. Her passion for professional development and mentoring others has long been a part of her career in medicine. In some ways, it even impacted her journey into medicine.
Dr. Leggett-Johnson decided in 6th grade she wanted to be a doctor and never wavered from that path. In her community in Louisiana, she saw the need for care, but didn't necessarily see providers who made her feel comfortable. She wanted to support others in both understanding the importance of proper health care and receiving such care.
Upon becoming a physician, Dr. Leggett-Johnson found herself in positions where she had to seek out her own mentoring relationships. She found that despite the busyness of the profession, being a physician can be lonely.  As a result, she learned quickly how important it is to lean on peers not just to share medical knowledge, but for personal support and friendship.
Later in her career, Dr. Leggett-Johnson worked for Kaiser Permanente where she became a medical director and oversaw both human resources and professional development. Applying what she had found helpful herself, she created a mentoring program to intentionally match young physicians with mentors. She also facilitated the organization of clubs and social events as a way for new physicians to connect with one another and create a sense of community. Over the years, many of those physicians expressed their belief that if not for the mentorship and connection, they would have left the medical group.
As a volunteer mentor and educator for MAVEN Project, Dr. Leggett-Johnson has been pleased to find that her own experiences are more transferable than she thought. "Regardless of where you work or the status of the people you serve, the issues are similar, the values are similar, the goals and objectives are similar," she says. Her advice for young providers is to always stay curious and understand that it's ok not to have all the answers. She also encourages young providers today to "find a work buddy at minimum" and expand the group if possible. She believes that finding that connection with others is tremendous.
In her limited free time, Dr. Leggett-Johnson has recently taken an interest in learning more about investments and finances. In addition, she enjoys travelling and spending time with family, including two brand new grandchildren.
Dr. Loan Nguyen
Volunteer of the Year
Dr. Loan Nguyen's journey into medicine has all the makings of a great book or a Hollywood movie. Since she was a young girl living in Vietnam, she had a strong desire to alleviate people's struggles, whether physically or mentally. She also loved science and math. When she would hear someone had a "condition," she would go to the library to read and learn more.
One day during her teenage years, after "self-diagnosing" herself with what she was sure was tuberculosis, she convinced her father to take her to a nearby free clinic run by a medical mission group from the West. That experience opened her eyes to a whole new world. She saw what sick people really looked like and how much they suffered. She was seen by a very kind doctor and decided she wanted to help others just like he did. However, her family couldn't afford the costs associated with taking the tests to get into medical school, so Dr. Nguyen originally studied be a teacher.
Following the collapse of the South Vietnamese government after her freshman year, Dr. Nguyen came to the United States as a refugee and resumed her studies at a small liberal arts college. The possibility of a career in medicine was stoked by professors and mentors who encouraged her love of chemistry, but the death of her father put her dream on pause a second time, as she needed to get a job and support her mother and younger siblings. She instead pursued a master's degree and research in bioorganic chemistry.
Later, after receiving her PhD, Dr. Nguyen's husband encouraged her to finally pursue her dream of medicine. She feels very lucky she had people in her life who saw her potential and encouraged her to persevere. Now, her own experiences in medicine help her as she mentors frontline providers as a MAVEN Project volunteer.
According to Dr. Nguyen, one of the most rewarding aspects of her volunteer work is getting to peek into a window of clinicians who are devoted to a population of patients who don't get the resources they deserve. It's as if she's come full circle from her experience as a teenager with the mission clinic. "These frontline providers are doing an amazing job with limited resources and should take pride in what they are doing," she says. "A lot of physicians could not do what they are doing."
Dr. Nguyen's advice for the frontline providers at MAVEN Project's partner clinics is to really tap into the mentoring offered by volunteers. "MAVEN Project volunteer mentors have more time and a lot of experience under their belts. And it's a safe space, no judgement," she says. "I wish I had someone like a MAVEN Project mentor when I first went into practice."